Influenza Information Center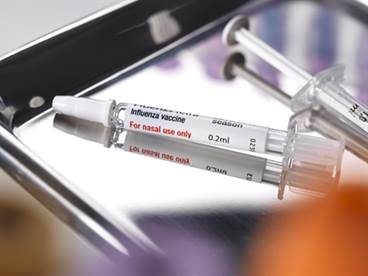 Women receiving the inactivated influenza vaccine demonstrated superior antibody response compared with those receiving the live attenuated influenza vaccine.
News

The 2017-2018 influenza season in the United States (October 1, 2017-May 19, 2018) was a high-severity season.
News

This updated Committee Opinion includes more recent data on the safety and efficacy of influenza vaccination during pregnancy, as well as recommendations for treatment and postexposure chemoprophylaxis.
Healthday

During cold/flu season there is an increase in acetaminophen use and overdosing.
Healthday

Undergoing cardiac surgery during the influenza season is associated with increased likelihood of development of acute respiratory distress syndrome.
News

The 2017 to 2018 influenza vaccine reduces the chance of getting the disease by about 33%, but is only 25% effective against H3N2, otherwise known as influenza A.
Two Minute Medicine
No increased risk of incident epilepsy was seen among children who received influenza vaccination during the 2009-2010 influenza season in Norway.
Video

These tips, recommended by pediatrician Shilpa Patel, MD, include keeping children home from school if they develop flu-like symptoms and monitoring your child's reaction to a fever.
News

Influenza infections are independently compartmentalized in the upper and lower airways.
Feature

NIH's National Institute of Allergy and Infectious Diseases is researching ways to develop a universal influenza vaccine against multiple strains.