Influenza Information Center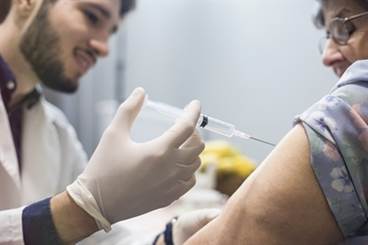 The ACIP and CDC have approved and released 2019 recommendations for the adult immunization schedule in the US.
Healthday

Half of this number went to a doctor, while 69,000 to 84,000 people have been hospitalized.
Healthday

Pregnant women admitted to ICU with flu more likely to deliver preterm infants, low birth-weight infants.
Healthday

With vaccination, risks reduced for readmission, outpatient visits, fever, clinical evaluations for infection.
News

Adults hospitalized for pneumonia who received an influenza vaccination during their stay were less likely to seroconvert if they had diabetes, bacterial detection, baseline seropositive titers for influenza B, or influenza vaccination in the previous season.
Healthday

Flu-positive patients have higher crude mortality and critical illness vs flu-negative patients.
Healthday

The quadrivalent LAIV4 is less effective than IIV against influenza A/H1N1pdm09 in all pediatric age groups.
Healthday
Higher incidence seen for in-hospital mortality, acute respiratory failure, acute kidney injury.
Healthday

After adjustment for confounders, vaccine linked to lower all-cause, cardiovascular death.
News

For women who are pregnant, influenza vaccines may moderately protect against laboratory-confirmed influenza-associated hospitalization.